Follow
Q100530: License Error Messages with "invalid hash" or "bad signature"
SUMMARY
A license for Foundry software is a plain text file that contains information about what the license is for (the application, version, expiry date, license type etc) and a license signature where this information is encrypted.
If the signature in the license file doesn't match the features then the license won't work or be installed and an "invalid hash" error message will be displayed.
MORE INFORMATION
When a license is validated by an application or license server, the encrypted signature is checked against the features in the license file. If the license key is edited by hand or if the file is incomplete due to copy and paste errors, the signature won't match the features in the license and the license will be invalid to the applications and the Foundry Licensing Utility (FLU).
Error Messages from Applications
If an application can only find a license with an invalid signature it will produce error messages saying "The license string contains a character mismatch or invalid hash" and "Bad signature in license (-5)"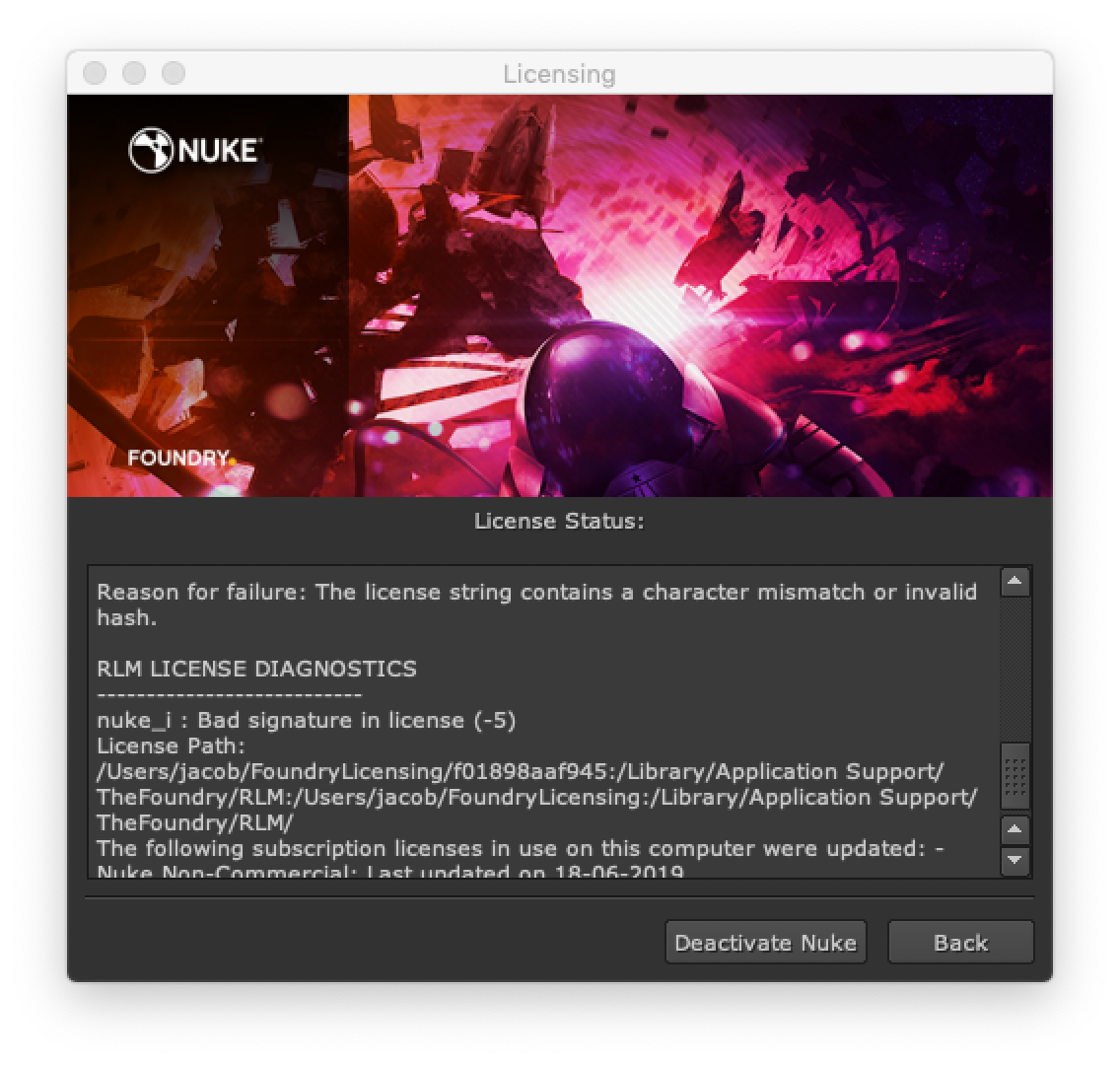 Error message viewing in FLU
You can view the license(s) installed on a machine using the Foundry Licensing Utility (FLU) 8.0.0 and above. Licenses are divided into Valid, Replaced, Expired and Invalid categories. Any licenses with an invalid signature or hash will appear in the "Invalid Licenses" section.

You can click on a license to see why it has been detected as invalid. "The license has an invalid hash or was found invalid for some other reason" will be displayed for any licenses where the signature

Error message installing with flu
The FLU will warn you if you try to install a license with an invalid hash/signature and show the following message:

NEXT STEPS
If you get an error messages about an invalid hash licenses and believe you should have an active license then please check that you have installed the latest license files from Foundry. If you cannot locate a valid license to install then please raise support ticket and include the following:
FURTHER READING
For more information about licensing please see the Foundry Licensing Online Help
The Support Portal has information about installing licenses, error messages and viewing your licenses in the following articles:
1 out of 2 found this helpful