Follow
Q100528: License Install Errors due to Corrupted or Incomplete License Strings
SUMMARY
In order for a license to work on a machine it needs to be saved in a plain text file. If a license is mistakenly saved in rich text format or otherwise corrupted it won't be valid for the application and the Foundry Licensing Utility won't be able to install it.
MORE INFORMATION
When the FLU tries to install a license it will check that the license is for the right machine, has not expired and that the license string contains characters in a plain text format. If the license string has been saved or copied and pasted in a rich text format or become corrupted in another way, the license will appear invalid to the FLU and it will display a warning message saying "Sorry, that was not a License File".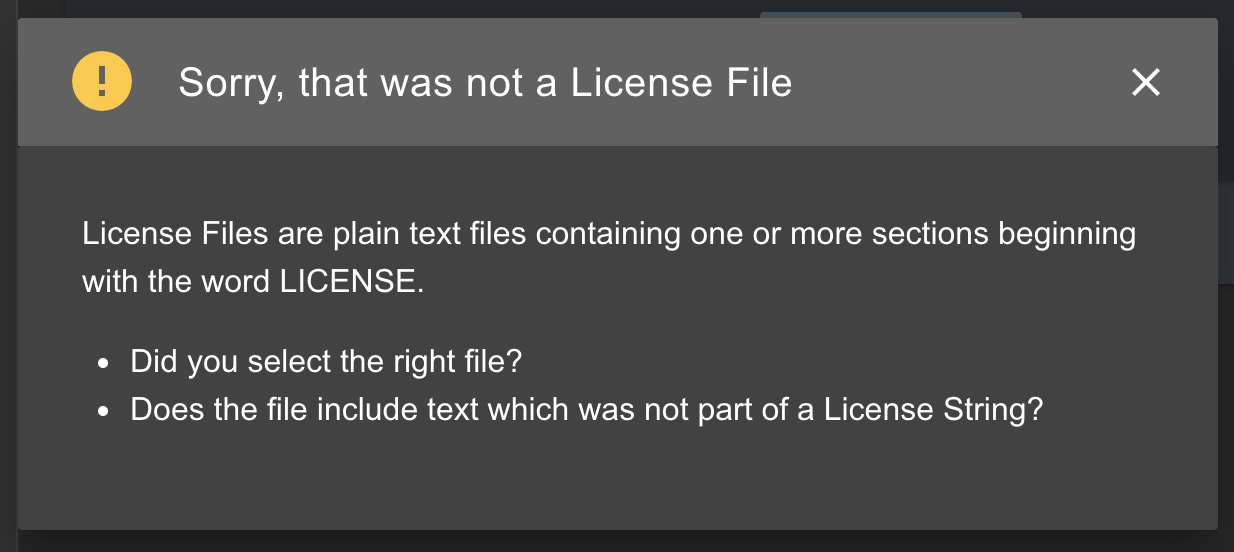 If you see this error message then please check the following before attempting to install the license again.
Did you download and save the license in a plain text file? Please save the file with a .lic or .txt file extension before you install it with the FLU.
Did you copy the entire license file? This will be from the HOST or LICENSE keyword until the second " character
Did you copy and paste the correct information from the email your received with your license?
FURTHER READING
For more information about licensing please see the Foundry Licensing Online Help
The Support Portal has information about installing licenses, error messages and viewing your licenses in the following articles:
0 out of 14 found this helpful