Follow
Q100456: Flix publishing best practices
SUMMARY
This article will explain the best practices to take for a successful publish from Flix to editorial, such as Avid Media Composer or Adobe Premiere, and back again to Flix.


MORE INFORMATION

Before publishing a version of your sequence to editorial from Flix, it is best to have any additional media that you want to use for that sequence imported into Flix first.
This can be done by clicking on the Import button at the bottom right of the Flix user interface.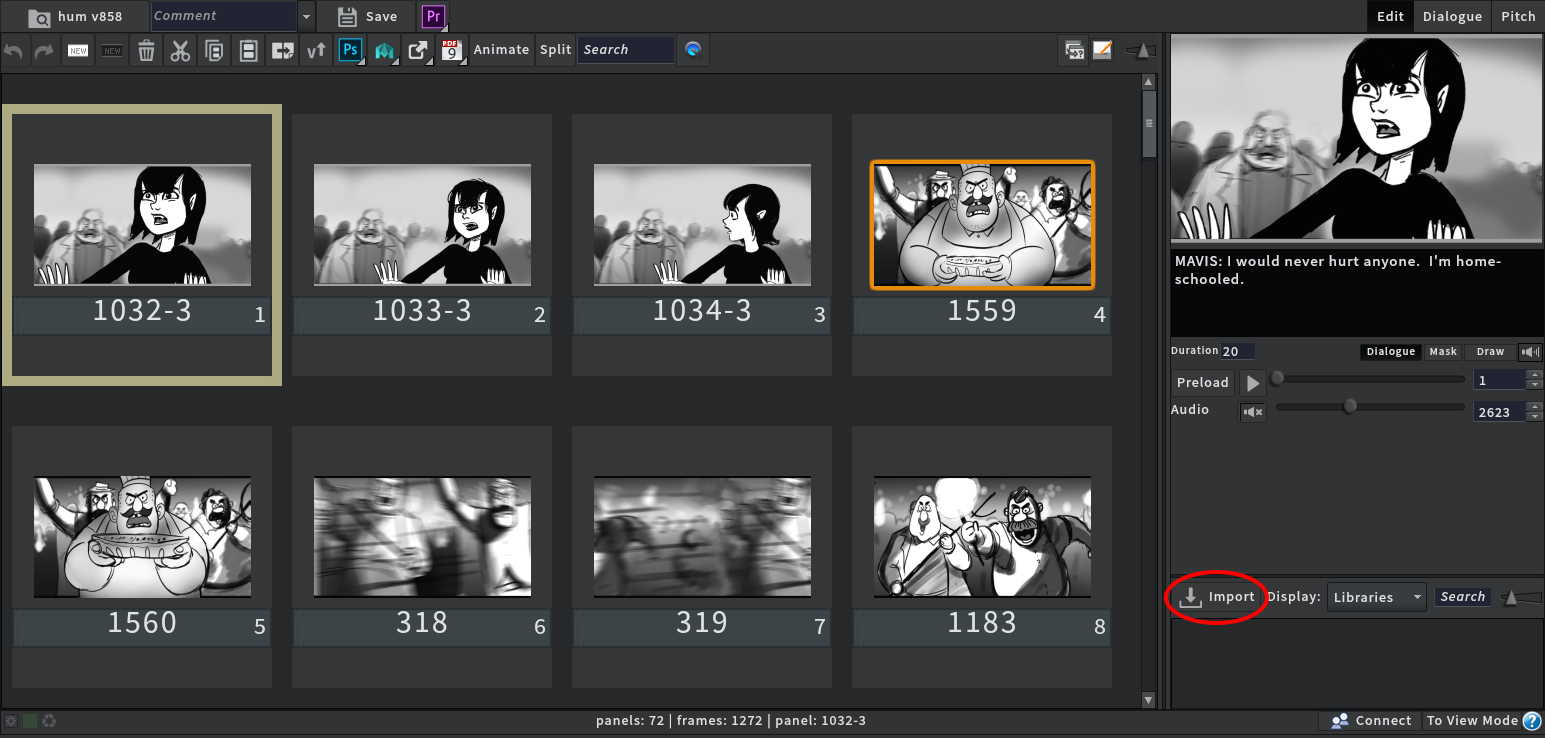 A dialog will then be opened where you can select all of your additional media you wish to  include, such as PSDs or QuickTime movie files.
NOTE: There is no need for this media to be placed in the correct place within the sequence or with correct timings etc.
Doing this will ensure that when it comes time to publish back to Flix from editorial, all media will be sent back with links to the original files rather than flat reference panels. 
NOTE: Selecting the additional media is an extra step for the initial publish, but using this method will be much better for artists later; speeding up the publishing process back to Flix and helping prevent errors from occurring.
It is also best to include as much media as necessary to begin with, as this will then lend to a smoother, more efficient publishing process back to Flix after editorial.
PUBLISHING TO EDITORIAL 
The Publishing To Editorial page of the Flix Online Help outlines how to go about sending your sequence from Flix to editorial software such as Avid Media Composer and Adobe Premiere.
NOTE: During these steps, it is often helpful to add a comment to your sequence before saving and publishing it, to identify the revision as a sequence ready to be sent to editorial.
When publishing to Avid Media Composer, the From Flix To Avid page of the Flix Online Help can be referenced to make sure Flix generates the necessary AAF and ALE files. 
NOTE:  When publishing to Avid, Flix will not generate AAF files for panels that haven't been edited since the last publish was made.
When publishing to Adobe Premiere, the Flix + Premiere: Editorial Round Trip training video can be referenced, which explains the process of importing the XML file created during the publishing process.
PUBLISHING FROM EDITORIAL TO FLIX
The Publishing From Editorial To Flix page of the Flix Online Help outlines the steps to take when publishing back to Flix from Avid or Premiere.
When publishing from Avid, please make sure to double check that the Output List settings match those shown on the Publishing From Editorial To Flix under the Using Avid (8.3 and newer) section. These are set so that Flix can understand the formatting of the cutlist that is exported from Avid during the process of publishing back to Flix.
ADOBE PREMIERE TO FLIX 
When exporting the media out from Adobe Premiere, a Final Cut PRO .xml file needs to be exported. This can be achieved by navigating to File > Export > Final Cut Pro XML…
In addition, a QuickTime movie file must also be exported, via File > Export > Media…
These two files will help Flix understand the sequence which is being sent back from Premiere, and will also provide a .mov file which can be referenced for all of the changes/edits carried out in the editorial process. 
NOTE: Any video and audio codec can be used when exporting the QuickTime movie as long as it's at the 1.77 aspect ratio (e.g. 1920x1080).
FLIX EDITORIAL 
Once edits have been made and the sequence exported back to Flix, the Flix Editorial tab will be used to import the edited sequence from Avid or Premiere back into Flix.
It is suggested to check the "As Stills" checkbox at the top of the interface. Having this option selected will make Flix create a single frame for each clip that may have been animated by editorial, as opposed to rendering every frame for that clip.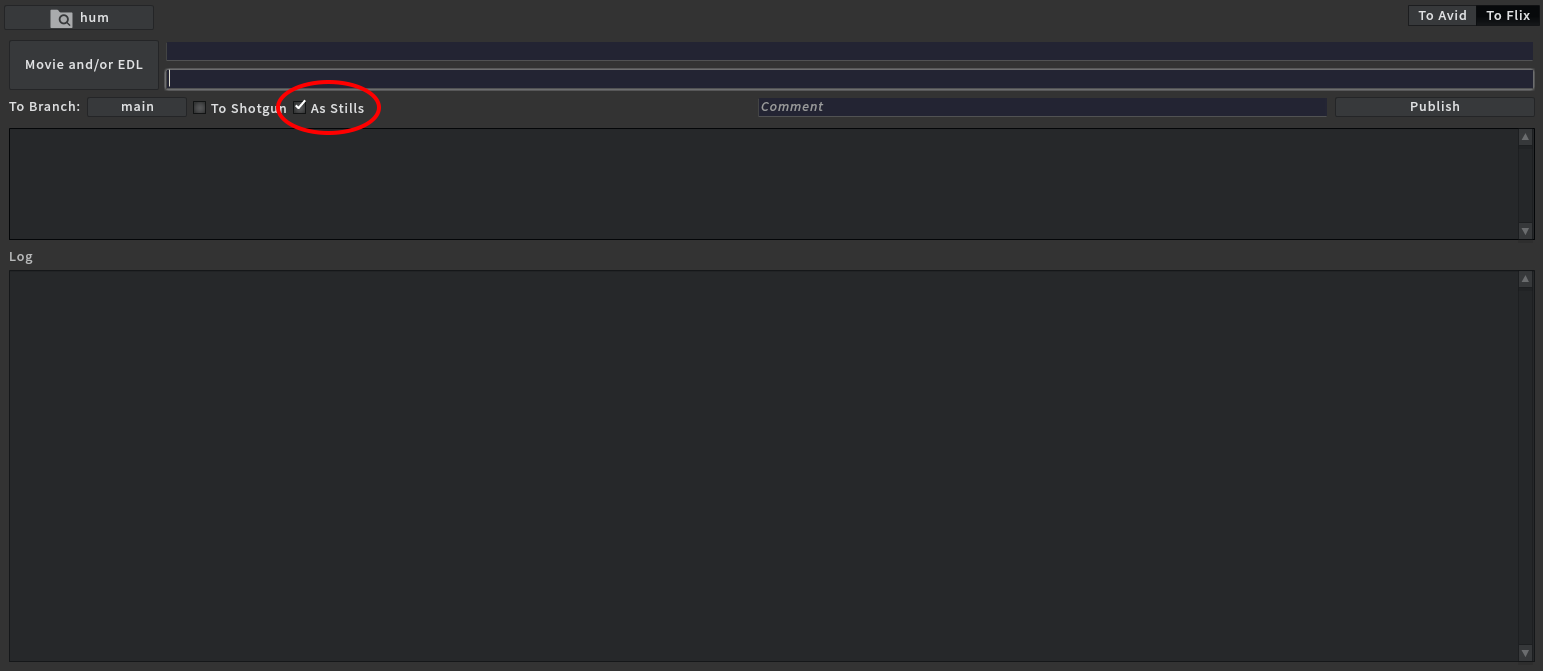 This will speed up the publish back to Flix, especially if a lot of effects from editorial are present within the exported sequence.
NOTE: If it's necessary to have published panels back into Flix with the full frame range of animation that may have been applied in editorial, then the "As Stills" option should be left unchecked. This will, however, cause the publish to take more time to complete the process back to Flix. It's also good to remember that the movie from editorial is always available as a reference in Flix after a publish, in which all the effects will show exactly as they were in editorial.
0 out of 0 found this helpful