Follow
Q100068: Using the Bug Tracker
SUMMARY
This article explains how the Bug Tracker works and how to use it to subscribe to bug change notifications. 


MORE INFORMATION
The Bug Tracker enables our customers to view the list of known product issues and keep track of changes to the bug state, by subscribing to notifications. In addition, the Bug Tracker is also integrated to our support ticket system, so when a support ticket is raised, not only will you see useful knowledge articles related to the ticket question, but also the list of all related product bugs. 
Accessing the Bug Tracker
By default, the Bug Tracker areas requires you to be logged in, to access it. Your login username and password will be the same as used for logging into the Foundry website.


If you are not logged into the Support Portal, the menu options for Bug Tracker won't be accessible and display as:



Once you log in, the menu options will appear unlocked and you will be able to:
Report a Bug 
Access the bug Dashboard
Access the individual bug database pages for each product


NOTE: We recommend that you use your corporate email address where the maintenance agreement is attached, when reporting a bug, to prevent delays.  
Reporting a bug 
We appreciate the time you take to provide us with bug reports and help us make our software better. The best way to report a bug is to use the bug reporting form, accessible via:



Using the bug reporting from is preferred over email since it ensures that the bug report is captured in a consistent way. Ultimately, this helps us capture the information needed to reproduce the problem quickly, and allows us to make the bug report available in our system for you and other users faster.

Once a bug is received by the Support team, we will attempt to reproduce the issue, based on the information and reproduction steps you have provided us.

If we are successful in confirming the issue as a bug, we will log and publish the bug report to the Bug Tracker, and provide you with a link where you will be able subscribe to updates.
Using the Bug Tracker
The Bug Tracker includes a 'Dashboard' view and individual bug database pages for each product.
Dashboard
Under 'Dashboard' you can see a snapshot of all available bug databases, with a few bug entries for each product. 

Clicking 'View all' will redirect you to the product's bugs database page.  
Bug database pages
Each bug database page for products displays the full list of known issues published for that product. For example, the Nuke bug database looks like: 
 Each bug article in the list displays:
Bug ID
Status
Tentative Target Release
Bug Title
Filtering options
On the right hand side, users have the ability to:
search for keywords in the title of a bug using 'Search in title'
'Filter by' one of the available bug statuses 
search for the name of an existing target release using 'Search by Target Release name'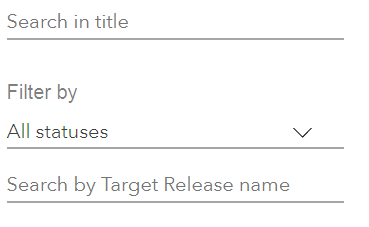 NOTE: The 'Search in title' and 'Filter by' options can be combined to retrieve a filtered list of bugs. For example, if you're searching for all Nuke bugs currently 'In Progress' that contain the keyword 'read' in the title, the result might look like:  



NOTE: The 'Search by Target Release name' will apply a search independent to the other options. The results will be filtered exclusive to the target release name used, and this needs to match the exact version appearing under the 'Target Release' field.  
Finding bugs in the Bug Tracker
If you already know the bug ID you're looking for, you can look for it directly in the search area of the Support Portal.

Before doing so, make sure you select the 'Bug Tracker' option under 'Search in:', like so: 
If you know this is a Nuke specific bug you can narrow down your search by using the specific bugs database like:  

Running this search will retrieve bug 335191 as a result, displayed like: 
Opening the bug article will provide you a detailed description of the problem, including steps to reduce and available workarounds, so that you'll know if it's relevant to you. You'll also see the current bug status and any targeted release information (tentatively added and subject to change).

Here's how the article for bug 335191 displays:  

Subscribing to bug change notifications

In the bug article view, you can click the 'Follow' button to subscribe to updates.


Once subscribed, the button will change to 'Unfollow' to mark that you're now following the bug article, for any updates.  


As soon as something has changed on that bug article like the bug status, target release or description of the bug (for example adding workaround information), you'll receive an email notification with details of the change.
NOTE: The change details will also appear as a new comment at the bottom of the bug article. 
You can find the list of all bugs you're following, together with any knowledge articles you've subscribed to, under My Support > Following page: 


There, you can also 'Unfollow' any of the entries you're no longer interested in.
Feature requests
Feature requests are not currently included in the Bug Tracker.

Any product suggestions you send us will be logged in our internal engineering enhancement database, and we will provide you with a reference ID. We encourage you to review the release notes for each product release, to see if your feature request is part of the latest improvements. Alternatively, you can open a support ticket and we can check with engineering the latest status of your enhancement request.

More information on how to open a support ticket can be found under: Q100064: How to raise a support ticket

Older product bug reports
Currently, we do not sync in the Bug Tracker all existing bugs as some may contain email addresses or other sensitive information.

As we value our customers privacy, we have taken the approach to publish bugs reported from the beginning of 2016 only, and all reported bugs going forward. For older bugs being re-reported by customers, we are reviewing each bug on a case by case basis to ensure that they contain no private data, before making them available in the Bug Tracker.

If there is a bug you are specifically interested in following, please let us know by opening a support ticket, and we'll take a look to see if the bug report can easily be clean up and published.

Reporting bugs 
If you find a bug with our software, please report it to us by using the Bug Report form found under the Bug Tracker menu (above), or by creating a new support ticket and selecting the relevant form.
To help us investigate a bug quickly, please provide as much information as possible, including detailed steps to reproduce. 
0 out of 0 found this helpful