SUMMARY
This article explains how to use the Support Portal to check existing tickets or create a new ticket to ask us questions about using our software, or notify us of issues you're experiencing.
MORE INFORMATION
With the Support Portal you can:
Check our Knowledge Base for useful product information
View the list of known product issues in the Bug Tracker
Access options to raise a support ticket, log a bug or check on existing support tickets to see their current status, under My Support
By default, the Bug Tracker and My Support areas require you to be logged in before accessing them. Your login username and password will be the same as used to logging into the Foundry website.
NOTE: We recommend that you use your corporate email address where the maintenance agreement is attached, to prevent delays.


Raising a support ticket
A support request is a ticket created by a customer (via the Support Portal form or via an email) to report an issue with the product or ask a question to Support. Support will do an investigation and based on the investigation results, provide an answer back to the customer via that support ticket. If the issue reported is confirmed as a product bug or as a product feature enhancement then Support will log a bug/feature report with engineering. At this point the support request will be closed but the bug/feature report will remain open instead.
Bug reports can be tracked in the Bug Tracker page.
No tracking is available at this time for feature enhancements.


To raise a ticket, click on 'My Support' on the top menu bar and select 'Submit a Request':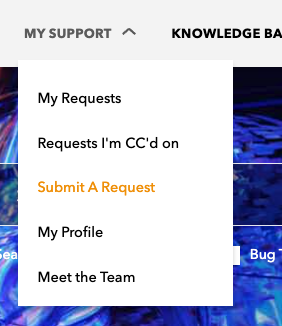 If you are not logged into the Support Portal, the menu options won't be accessible and display as: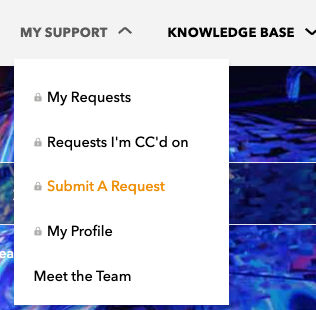 Please log in before selecting 'Submit a Request'
Choose the relevant request type from the list of forms displayed under 'Select the reason for contacting Support'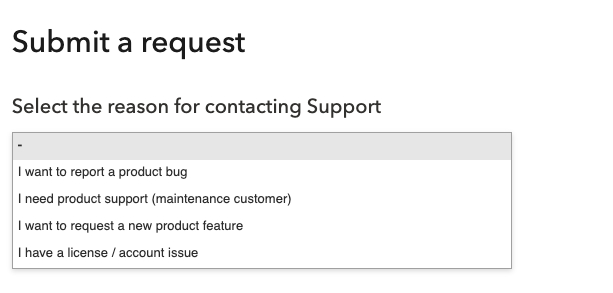 If you have a licensing problem please use 'I have a licensing issue' form so we can assign your ticket to our licensing team.
Depending on your maintenance agreement status, if you need help with our products please use 'I need product support (maintenance customers)'. Please ensure you are logged in with your corporate email address where the maintenance agreement is attached, so we can assist you as soon as possible.

To report a bug with our software please use 'I want to report a product bug'.
We will attempt to reproduce the issue based on the information and reproduction steps you provide us, and if we are successful, we will log a bug report and get back to you with the tracking bug ID available in our Bug Tracker.
If you'd like to send us product suggestions please use 'I want to request a new product feature'
We will log your feature request with the relevant engineering team who will review and prioritise the enhancement.
Checking the status of existing support tickets
To see your existing support tickets, click on 'My Support' from the menu bar and then click on 'My Requests'. You will have access to all the support tickets you have raised and will be able to check their current status and conversation details.
You can also view tickets where you have been cc'ed by a colleague, under 'Requests I'm CC'd on'

11 out of 15 found this helpful