Follow
Q100047: Using a floating Modo license off the license server's network - roaming licenses
RLM licensing can provide the capability for a client machine to check out a license from the server for an extended duration and then disconnect a machine from the server's network.  This is referred to as license roaming.
This article provides information about license roaming functionality with Modo.
In order for this license roaming functionality to work it has to be enabled by the software vendor (i.e Foundry) and a roaming enabled license is required.
We have now made this functionality possible in Modo with the release of Modo 12.2v2 - earlier versions of Modo do not have the capability to roam a license.
In order to access this functionality you will need a roaming enabled floating license.  This functionality will be added to Modo floating licenses for existing customers upon maintenance renewal.

NOTE: Roaming will only be enabled if ALL of your floating Modo licenses are roaming enabled.  If you have a mixture of roaming and non-roaming floating licenses then roaming from the server is disabled.  Please raise a Support ticket if you have any questions.
For all non-roaming floating licenses, an active network connection between the client machine running the program and the license server machine is required in order to continue using the license.  If the connection breaks or a machine is taken off-line then the Foundry program will no longer run.
How to roam a license
You can check if your license has roaming enabled by launching Modo and clicking on "Help > Modo Licensing" from the menu.  The License Status information will indicate if roaming is enabled or not.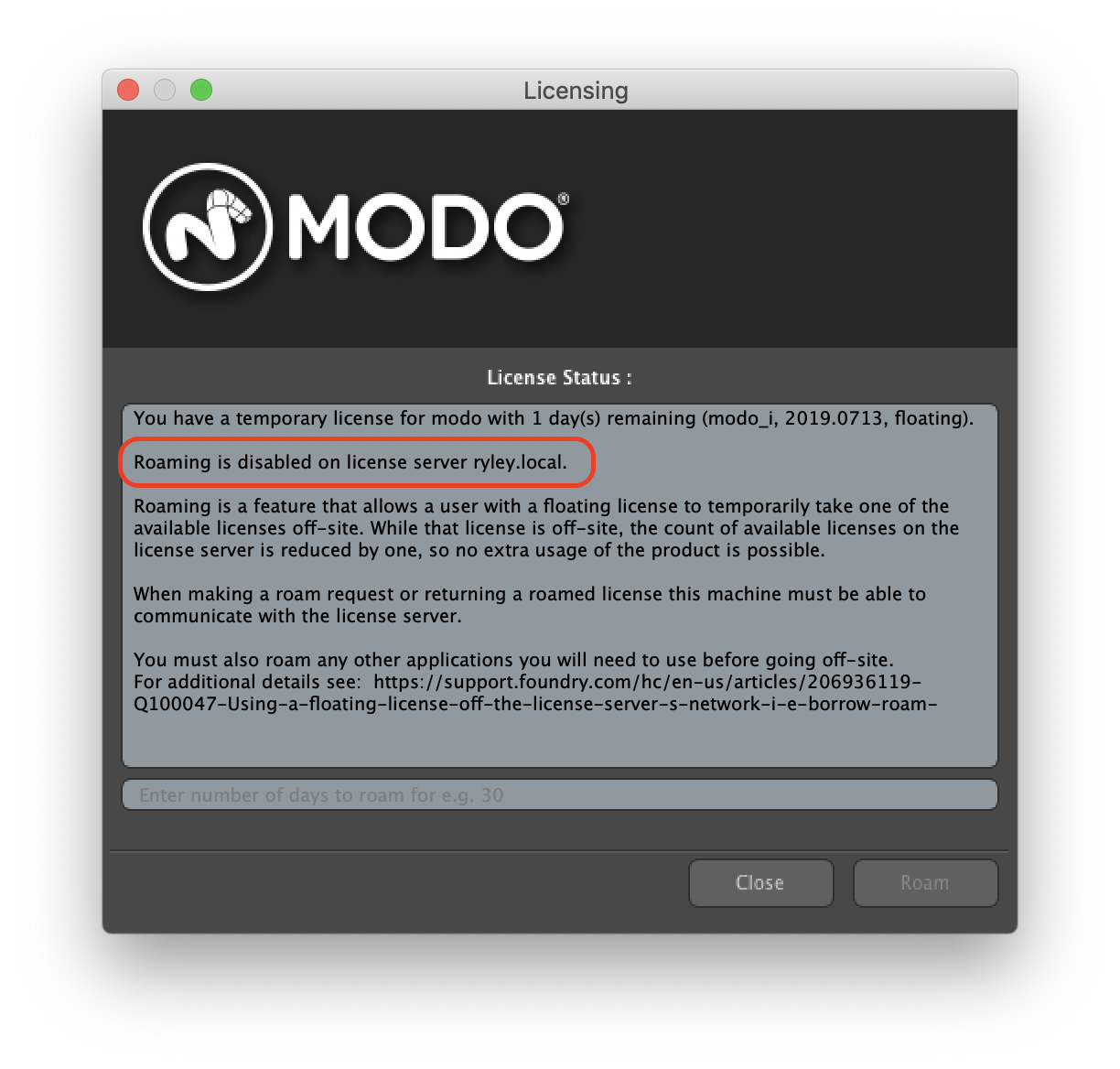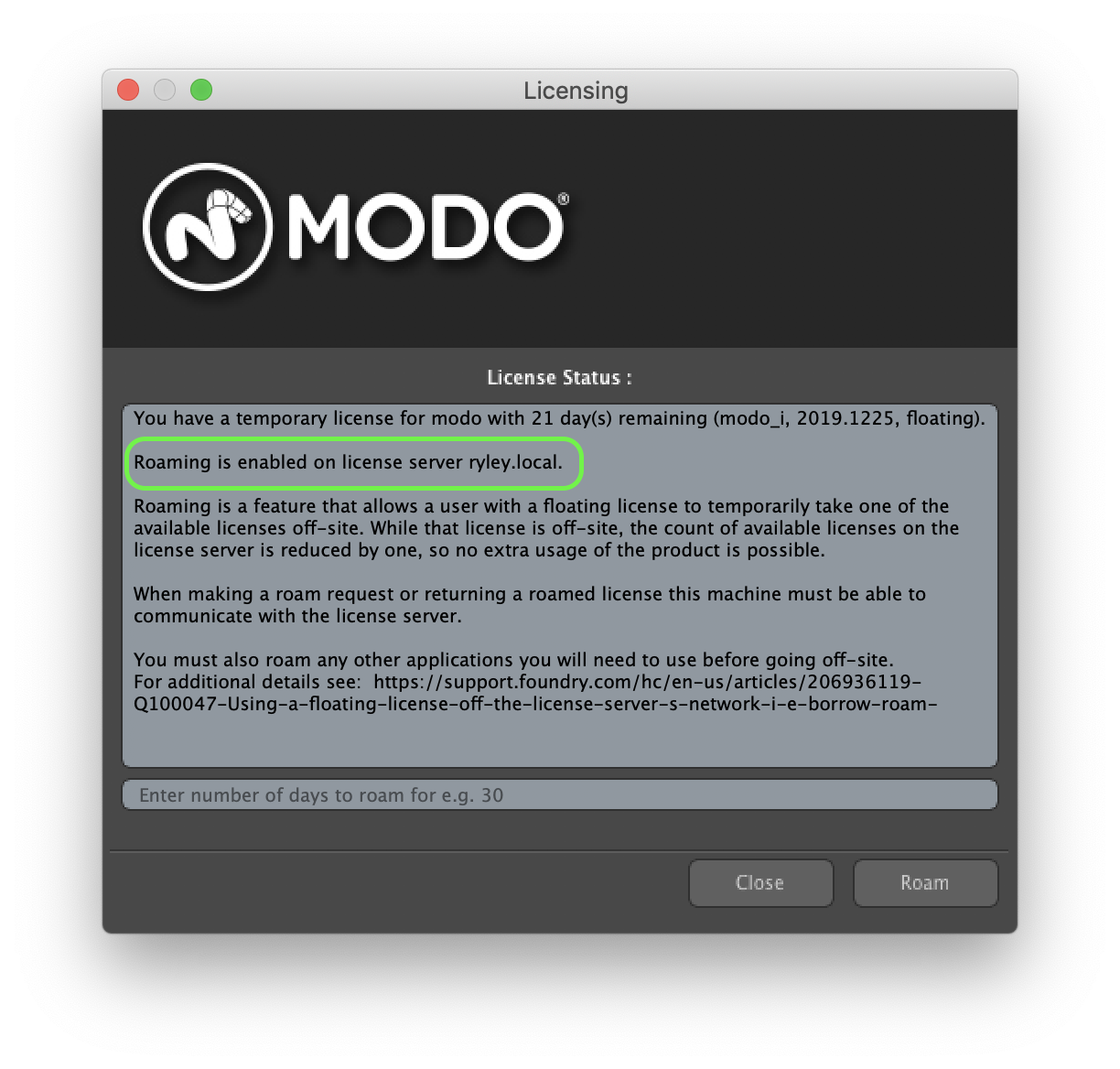 If it is enabled then you can roam a license by doing the following:
Launch Modo and click on "Help > Modo Licensing"
Enter the number of days you need to go off line for and click on "Roam"
You can then take the machine offline and use the license for the specified number of days, after which it will be automatically checked back in to the server
If you want to return the license early, you can launch Modo again, go to "Help > Modo Licensing" and click on "Return Roam".  Please note that the "Return Roam" button only appears if you have already roamed a license and then restarted Modo, it doesn't appear in the same Modo session that you roamed the license from.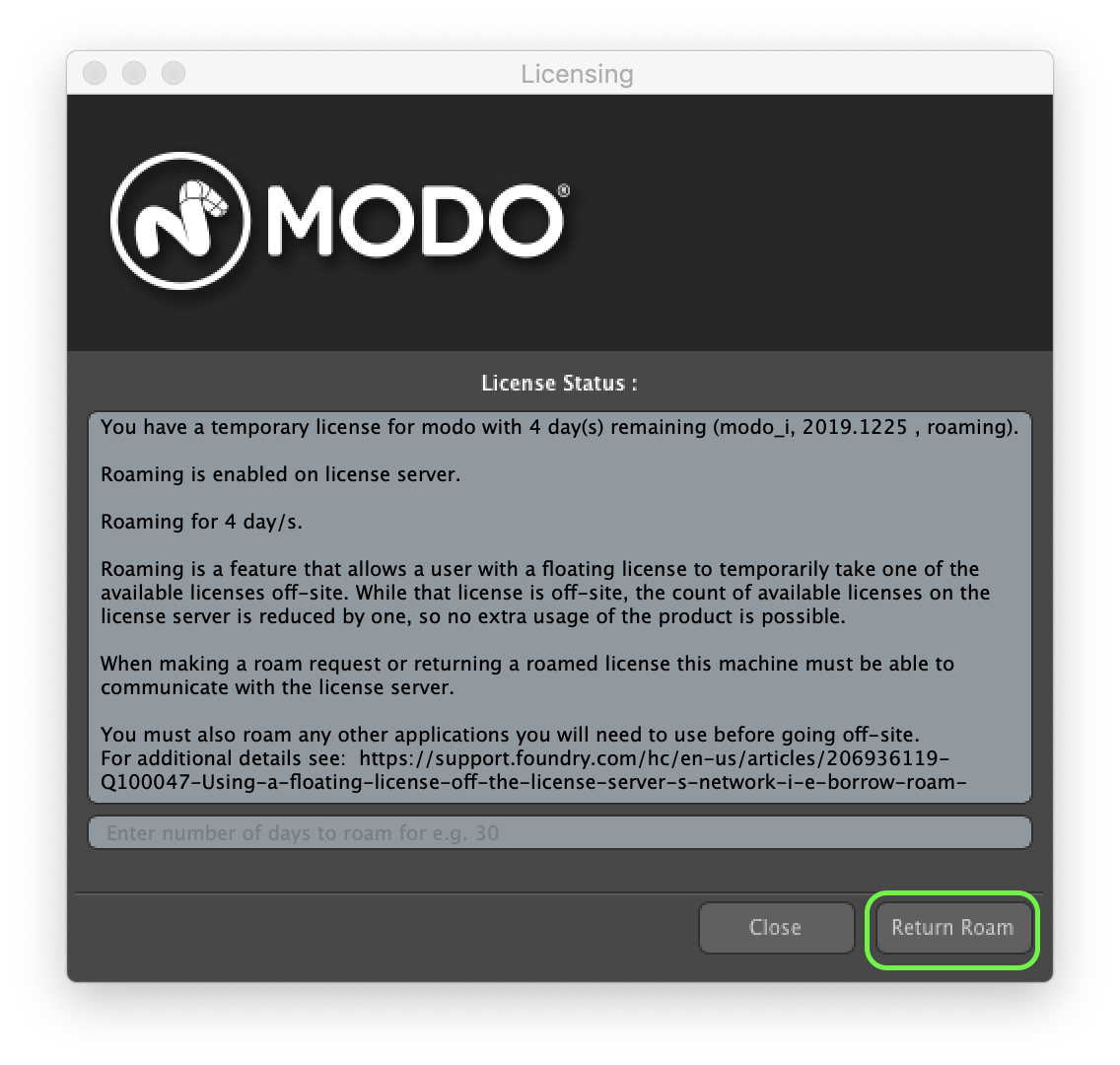 6 out of 12 found this helpful