Follow
Q100304: Login-based licence 'CURL' error
SUMMARY
If you are connected to the internet behind network security or through a proxy server this may prevent our software from connecting to the Foundry website to activate a license on your machine. You may see an error similar to this:



Fortunately there are a few ways you can workaround this.
Adding Exceptions to your Proxy Server/ Network security

Enter your Proxy Server details on the Licensing Dialog
Proxy Servers with SSL Interception
Note: If you are seeing this error or would like to set the proxy settings in Modo 15 please see Q100609: Licensing Modo 15 from behind a proxy or network security
1. Adding Exceptions to your Proxy Server/Network Security
If your proxy server/ network security blocks all outgoing communication unless they are to allowed addresses then you should be able to activate your login-based license by allowing the following addresses:
https://licenceapi.foundry.com on port 443

https://id.foundry.com/
2. Enter your Proxy Server details on the Licensing Dialog
Modo 14.1 or above
The window to enter your proxy details appears if Modo has not been able to contact the website after you try to login. Note that he window will not appear if Modo can connect to the licensing website.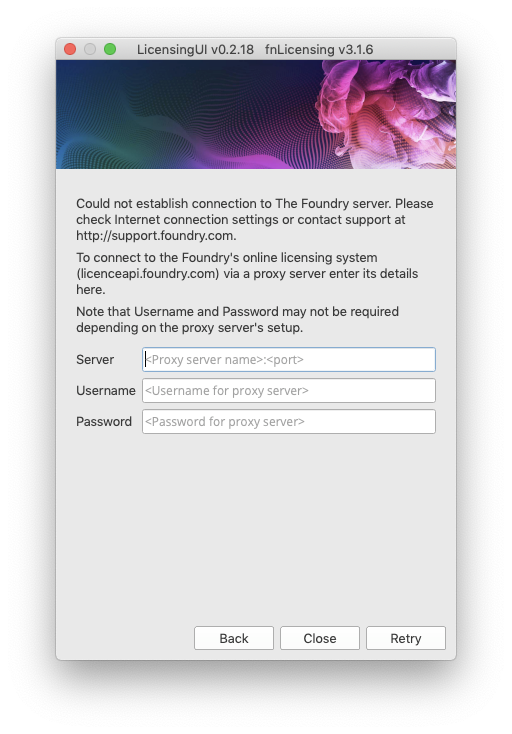 Modo 11.0 to 14.0
You can enter your proxy server details on the Advanced Options on the Modo Licensing dialog.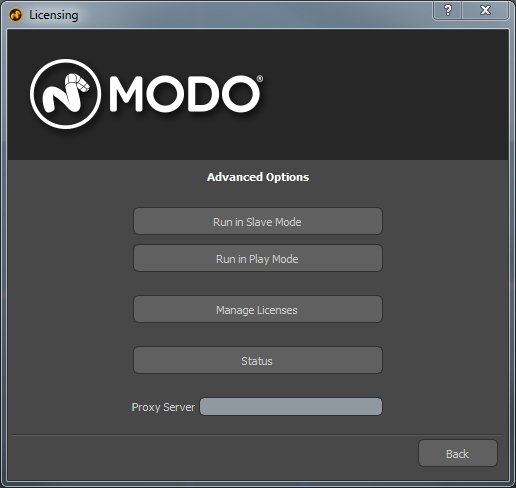 After you enter your proxy details, click on "Back" and then enter your login details as detailed in the following article: Q100283: How to activate a Login-based license for Modo
3. Proxy Servers with SSL Interception
If your proxy server has SSL interception then Modo will fail to get a license and return "CURL error: (35) SSL connect error" as an error message.
In Modo 11.1v1 and above you can work around this by setting an environment variable to tell Modo where it can find the certificate file for your proxy server. The variable is called FN_LICENSE_CERTIFICATE and you need to set it to the location of the certificate file. If you're unsure of where the certificate file is then please speak to your system administrator.
If you are still using Modo 11.0 then you can work around this by copying your own proxy certificate file over the one in Modo's install folder. The file to replace is the "ca-bundle.crt" within the Resources or resc directory of the Modo install. The default location for these file is:
MacOS: /Applications/Modo11.0v3.app/Contents/Resources/ca-bundle.crt
Windows: C:\Program Files\Luxology\modo\11.0v3\resrc\ca-bundle.crt
You should then be able to activate Modo 11 after supplying your proxy server details.
FURTHER READING
More information about login-based licensing is available in the following articles:
3 out of 6 found this helpful